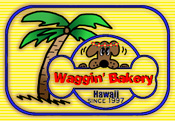 Notice
Our new lil bite treats are the perfect snack for the small canine. These new treats measure 1" x 1/3" in size. Some of our treats are made without wheat products.
Each of our cookies are handmade and hand-packed with a lot of Aloha.
Current Cookie lifespan is
4 months with honey
5 months without honey
DISCLAIMER
Biscuits may break during the shipment. However, Waggin' Bakery will not be held responsible. We have no control after it leaves our warehouse. If you receive damaged products, please check with the postal carrier. We recommend you to purchase insurance to protect from missing order packages.
Shipping Insurance:
offer shipping insurance in case of damage, or missing orders. If your order does not arrive within the scheduled time, or is completely damaged. Insurance coverage will provide you with a replacement order at no additional cost. Please note that cracked cookies inside of a box that does not show any visible exterior damage will not be covered.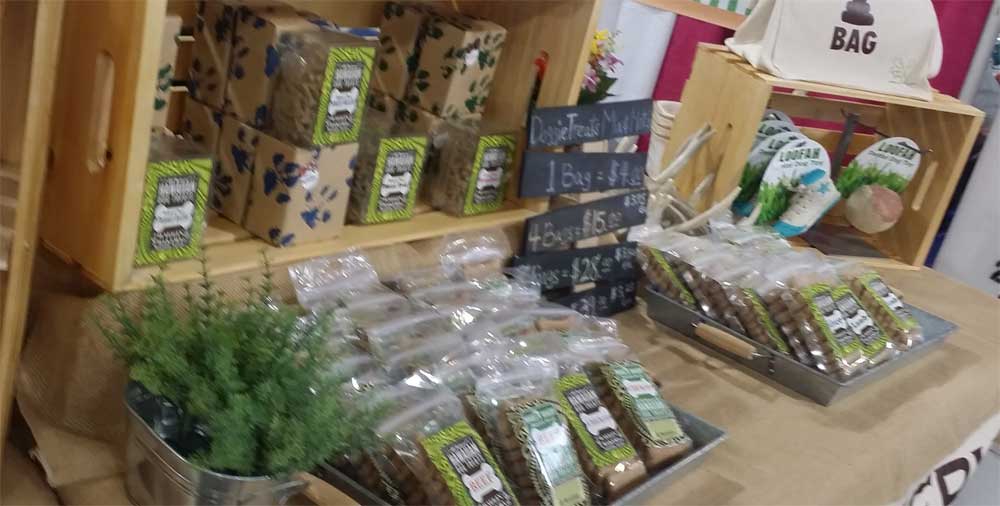 Doggie Treats Lil' Bites
We offer shipping insurance in case of damage, or missing orders. If your order does not arrive within the scheduled time, or is completely damaged. Insurance coverage will provide you with a replacement order at no additional cost. Please note that cracked cookies inside of a box that does not show any visible exterior damage will not be covered.

Shipping Insurance $1.70 (U.S. Dollars)

Pineapple Treats (Most popular Lil Bite)*

Local style doggie treats. Pineapple flavor is popular as gifts or as souvenir.

Ingredients: Rye Flour, Oat Bran, 100% Pineapple Juice, Hawaiian Honey, Canola Oil, Baking Powder

Package Dimensions:

3 x 5 x 1.25 inches ; 3.25 ounces
Item number:

PINEL

Retail Price:

$

3.99

Direct Price:

$3.49

You Save:
$0.50 (12%)

---

Sweet Potato 3 oz. lil' bites

Ingredients: Rye Flour, Oat Flour, Sweet Potato, Honey, Canola oil, Baking Powder.

Package Dimensions: 3 x 5 x 1.25 inches ; 3.25 ounces

Item number: OSPL

Retail Price:

$

3.99

Direct Price:

$3.49

You Save:
$0.50 (12%)

---

Bacon & Cheese 3oz. lil' bites

Ingredients: Rye Flour, Oat Bran, Bacon Bits, White Cheddar, Baking Powder.

Package Dimensions: 3 x 5 x 1.25 inches ; 3.25 ounces

Item number: BACON

Retail Price:

$

3.99

Direct Price:

$3.49

You Save:
$0.50 (12%)

---

Chicken Parmesan 3oz. lil' bites

$3.49 (Wheat Free) SOLDOUT

Ingredients: Rye Flour, Oat Bran, Chicken Liver Powder, Parmesan Cheese, Canola Oil, Baking Powder.

Package Dimensions: 3 x 5 x 1.25 inches ; 3.25 ounces

Item number:

CHIXP

Retail Price:

$

3.99

Direct Price:

$3.49

You Save:
$0.50 (12%)

---

Peanut Butter and Honey 3oz. lil' bites

Ingredients: Rye Flour, Oat Bran, Unsalted Natural Peanut Butter, Honey, Baking Powder.

Package Dimensions: 3 x 5 x 1.25 inches ; 3.25 ounces

Item number: PBHL

Retail Price:

$

3.99

Direct Price:

$3.49

You Save:
$0.50 (12%)

---

Coconut 3oz. lil' bites

Ingredients: Rye Flour, Oat Bran Coconut, Canola Oil, Honey, Baking Powder

Retail Price:

$

3.99

Direct Price:

$3.49

You Save:
$0.50 (12%)

---

Mango 3oz. lil' bites

Ingredients: Rye Flour, Oat Bran, Mango Puree, Canola Oil, Honey, Baking Powder

Retail Price:

$

3.99

Direct Price:

$3.49

You Save:
$0.50 (12%)

Package Dimensions: 3 x 5 x 1.25 inches ; 3.25 ounces

Item number:

MGO

---

Meat Trio 3oz. lil' bites

$3.49 (Wheat Free)

Rye Flour, Oat Bran, Beef Broth, Chicken Broth, Bacon, Canola Oil, Baking Powder

Retail Price:
$3.99
Direct Price:

$3.49

You Save:
$0.50 (12%)